"Wright and Lilienthal"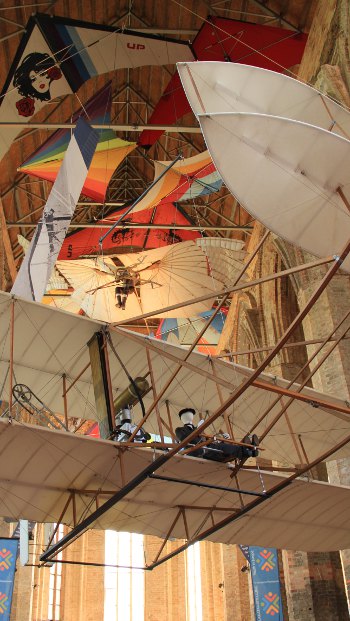 Perhaps no other technological development had the character of a public contest as well as the development of the aircraft: the first launch, the first 100 meters, the first circle, the first passenger, the crossing of the English Channel ... .
History as a breakthrough: Lilienthal - the first aviator, the Wright brothers - the first powered flight. Both is controversial. But both dominated eras of development:
The photos of the "Prussian Icarus" went around the world and dominated the 10-year epoch of certainty "Man can fly," the period between feat and product.
The Wrght Flyer became a well known but secret product for five years, until it flew in France and Germany and became a public sensation.
Lilienthal 1893
The news and pictures of "the flying man" went around the world, not least because of the currently developed "snapshot photography" as well as the modern medium of illustrated magazines.
Building on his reliable glider design, Lilienthal attempted to add wing-flapping for motion power. Both muscle-power propulsion and motor-power propulsion were planned.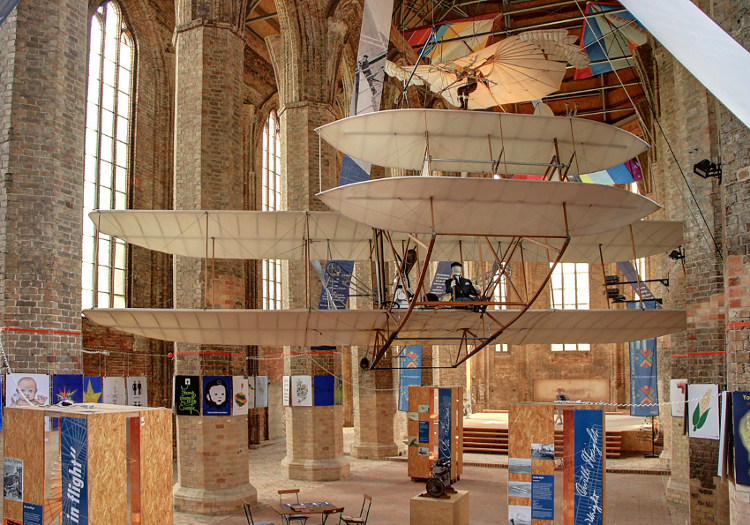 "Wright A" in St. Nicolai, Anklam, Baptistry of Otto Lilienthal
Aviat-Stiftung, U. Voswinckel, replica: U. Joerges, photo: P. Wittig
Wright 1903
After the successful flights on December,17. 1903, the Wrights developed their flyer under complete secrecy to the sellable product. Potential customers should be the military in various countries. Only growing competitors in France, Germany and the USA and the skepticism of the military led the Wrights to show their aircraft in public, 1908 in France and 1909 in Germany, on August, 29. 1909 in Berlin at Tempelhof field. The machine later was transferred to the Deutsches Museum in Munich, and is still there on display - as the world's only preserved copy.
The book: "Wright in Germany" (Otto-Lilienthal-Museum Anklam, first edition 1998, available in German only) accompanies the exhibition. This is the first publication about the Wright factory in Germany, at that time the most successful one in Europe, and the outstanding role of the Wright brothers on the development of aviation in Germany.